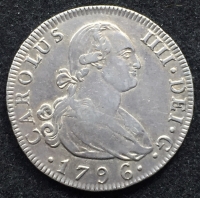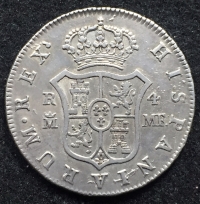 A CHOICE & RARESPANISH

(MEXICO MINT)

FOUR REALES
of 1796
(A Very Scarce Date)
in AEF Condition.
Struck during the year of the Franco-Spanish Alliance (the year of the Second Treaty of San Ildefonso) and during the height of the Yellow Fever Epidemic, when Spain "erroneously" threw its lot in with France under the Emperor Napoleon against the British.
In common with many coins of the late 1790's and with particular relevance to the coins of 1796 this is a VERY difficult date to find in any condition. An epidemic of Yellow Fever swept the world and came to its peak in 1796. In the case of the US mint in Philadelphia the situation was so acute, and with so many mint employees succumbing to the illness, that it stopped production completely.
This is an exceptionally good example in AEF.
£395