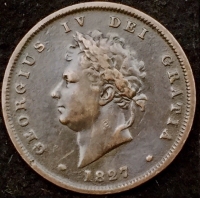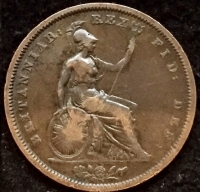 AN EXCESSIVELY RARE GEORGE IV "1827" COPPER PENNY.
THE CLASSIC RARITY OF THE COPPER SERIES.
THE ENTIRE ISSUE WAS SHIPPED TO THE CONVICT COLONIES OF EARLY AUSTRALIA AT BOTANY BAY (Sydney) & SWAN RIVER (Perth)
[THE 1827 PENNY. THE DESCRIPTIVE HISTORY]
The 1827 Penny is a sheer classic rarity. It is well known that 99.9% of this year's mintage was shipped to Australia for use in the early convict colonies. Almost none entered natural circulation in the British Isles, and the tiny number than perhaps did arrive in classically 'grim' basal state. Some sources feel that the 1827 pennies circulated in the Caribbean islands first, but having studied this issue for many years we are of the opinion that they pretty much all went straight to the Australian penal colonies. One way or the other, we know that the coins fared badly on the sea voyage to Australia as being packed in wooden boxes they were soaked in salt water while in transit. The result was that almost the entire mintage became eaten, corroded and pitted. There are only two known "Mint State" coins ...One in a PCGS MS65RB holder and another in NGC MS63BRN. I have personally seen several coins with a technically "mint" obverse & a totally salt eaten reverse and a good number more which have been high grade on both surfaces but with severe all over salt corrosion. Coins in true EF without any problems can only be counted in perhaps a few dozen....at best.... and when they rarely show up they bring astronomical figures. A genuinely MINT STATE coin with full red would command perhaps £25,000 with little trouble. Any coin above good fine & anywhere up towards VF ...and ...with no corrosion is a major rarity. The example offered here is a really strong GOOD VF with totally zero corrosion and hard original surfaces. It's a truly rare piece & about the best you'll see at anything close to reasonable money and is totally head & shoulders above anything you will normally see offered for sale.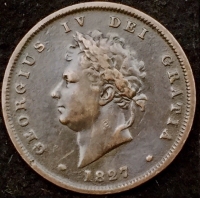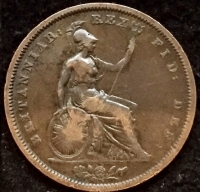 A greatly recommended item for the serious collector. EF BOOK IS £6000 ! THIS EXAMPLE, IS "GOOD VF" & EXTREMELY RARE. Strictly One Only ! £2450